THE OSCEOLA TURKEY: 

"THE CROWN JEWEL" 

OF YOUR GRAND SLAM !

      WE OFFER SOME OF THE BEST OSCEOLA WILD TURKEY HUNTING TO BE FOUND. FLORIDA TURKEY HUNTING IS A CHALLENGE BUT ALSO EXTREMELY REWARDING. YEAR ROUND FOOD PLOTS AND SUPPLEMENTAL FEEDING OF QUALITY HIGH PROTEIN, HIGH FAT FEEDS SUCH AS SUNFLOWERS MAKE OUR WILD TURKEYS A BIT MORE PREDICTABLE. SPRING FOOD PLOTS PRODUCE AN ABUNDANCE OF INSECTS TO MEET THE PROTEIN NEEDS OF POULTS, WHICH IN TURN GROW INTO LARGE, BEAUTIFUL OSCEOLAS. 

     WE OFFER FALL TURKEY HUNTING AND SPRING TURKEY HUNTING.

     EACH GUEST IS TREATED TO ONE ON ONE ATTENTION. 

     OUR GROUNDS ENCOMPASS OVER 800 ACRES & ARE SURROUNDED BY OVER 5,000 ACRES OF NON HUNTED LAND. YOUR TURKEY HUNT WILL BE PRIVATE, QUIET & SECLUDED! TURKEY HUNTING IS EXTREMELY LIMITED.

JOIN US THIS YEAR FOR YOUR SPRING TURKEY HUNT! 

EARLY RESERVATIONS ARE STRONGLY RECOMMENDED!

WATERMELON POND 

PLANTATION


12 MILES WEST OF GAINESVILLE, FLORIDA 

BETWEEN ARCHER & BRONSON OFF OF STATE RD. 24 (ARCHER ROAD)

Watermelon Pond Plantation Rules

*All State regulations

*Guns must be unloaded prior to entering blinds.

*Hunters must observe and use all safety rules. 

*No alcoholic beverages before or during hunts.

*Blinds must be set up AT LEAST 100 yards from feeding stations.

*Taking of turkey hens is prohibited.

STATE REGULATIONS

Shooting Hours: One-half hour before sunrise until sunset on private lands.

Daily Bag and Possession Limits: Bag and possession limits for turkey during the Spring Turkey Season are: daily limit one, season limit two, possession limit two. 

Hunting Methods: All legal firearms including bows and arrows, muzzleloading guns, crossbows and handguns. Decoys may be used. 

Prohibitions: Hunting turkeys with dogs, hunting turkeys after sunset, shooting turkeys while they are on the roost, the use of recorded turkey calls, taking by the aid of baiting or taking if the hunter is less than 100 yards from any game-feeding station.

TRANSPORTATION

Sex evidence: Positive evidence of sex identification, including the head, shall remain on deer taken or killed within the state and on all turkeys taken during any gobbler season when taking of turkey hens is prohibited,  so long as such deer or turkey is kept in camp or forest or is enroute to the domicile of its possessor or until such deer or turkey has been cooked or stored at the domicile of its possessor.

Dividing carcasses: Deer and turkeys may be dismembered in field or camp, however tags must be attached to each portion identifying names, addresses and hunting license numbers of the persons who harvested them with date and location at which they were taken. These tags must be readily traceable to the portion of the animal bearing sex identification. 

Transport of game: Game may be transported only as personal baggage in numbers consistent with possession limits. Common carriers may transport lawfully taken game in packages bearing owners names and addresses, as long as they are marked to show numbers and species of game contained.

 2019

Fall Turkey Season:

Zone C

  Archery season: Sept. 14 – Oct. 13

  Crossbow season: Sept. 14 – Oct. 18

  Muzzleloading gun season: Oct. 19 – Nov. 1

  Fall turkey season: Nov. 2 – Dec. 29 (2)

Spring seasons (2)

Daily bag limit: 2 turkeys

Season and possession limit: 2 for all fall seasons combined​

  Youth turkey hunt weekend: March 14-15 (3)

  Spring turkey season: March 21 – April 26, 2020

Daily bag limit: 2 turkeys

Season and possession limit: 2 for all spring seasons

  License and permit requirements: 

Hunting license and turkey permit

Nonresident Hunting Licenses:

Nonresident Annual Hunting:  $151.50   

Nonresident 10-Day Hunting: $46.50 

Turkey Permit: (Non Resident) $100.00 

Legal to take: Bearded turkeys or gobblers

Shooting hours: One-half hour before sunrise to sunset. 

Hunting methods: All legal rifles, shotguns, muzzleloading guns, crossbows, bows and handguns may be used. Decoys also may be used.

Prohibitions:

*Hunting turkeys with dogs

*Shooting turkeys while they are on the roost

*Taking turkeys over baited areas

*Taking turkeys when hunter is within 100 yards of  a game-feeding station when feed is present

*Using centerfire, semi-automatic rifles having magazine capacities of more than five rounds and fully automatic or silencer-equipped firearms

RATES: 

        $850.00 per day per hunter. 

Local Motels Available I-75 & Archer Rd [State Rd 24] Gainesville

12 miles from hunting grounds

   All bookings require half of the fee as a security deposit. Deposit is refundable if notified of cancellation 48 hours in advance of arrival date. Meals are not included.

*Trophy Fees: 20 pounds and over or 11" inch beard and greater: $300.00

*Resident or Non Resident License & Turkey Stamp Required.*

* WE ENCOURAGE YOUTH HUNTING! *

FATHER & CHILD

(UNDER 16 YEARS of AGE) 

DISCOUNT:

$25.00 OFF PER DAY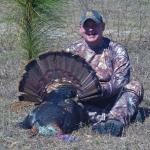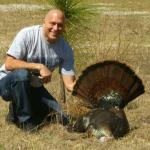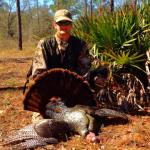 STEVE from KY:

"The Master of Gobbler Hunting"